Derek Chauvin found guilty of all three charges in the murder of George Floyd
"A Minnesota jury found former Minneapolis police officer Derek Chauvin guilty Tuesday on charges of second-degree unintentional murder, third-degree murder and second-degree manslaughter for the May 2020 killing of George Floyd. Jurors announced their final verdict after approximately 10 hours of deliberation. Sentencing will take place in eight weeks and Chauvin will be held without bail until that time."

Katie S. Phang@KatiePhang REMINDER: The remaining officers (Lane, Thao, and Kueng) charged in the death of George Floyd, will be tried together on August 23.

Vox Populi Resists@vox_n_thecosmos Justice is done. Let's make sure this is only the BEGINNING. We shall not tolerate murderers masquerading as public servants whose job is to protect & serve.

Imani@MoiseNoise Per AP style: Replace the "the death of George Floyd" with "the murder of George Floyd" effective immediately

Alt USDA_ARS@AltUSDA_ARS One tiny step for marginalized communities, but a step in the right direction.

K. Travis Ballie@KTravisBallie George Floyd's girlfriend, Courteney Ross, just said it best on national television. We have reparations to make, older police murder cases should be re-opened. We need to hold more murderers accountable.

Upworthy@UpworthyDarnella Frazier was a 17-year-old taking her little cousin for snacks – but then she had the courage to film the murder of #georgefloyd. May we always be grateful for the innocent bystanders of the world who stand up for what's right no matter how helpless or scared they feel.

Obi-Wan Kenobi #BlackLivesMatter @obk623 This is what happens when we elect people with empathy and humanity It feels good to see a @POTUS & @VP who REALLY care about Americans Who care about #JusticeForGeorgeFloyd Who care about #PoliceReformNow#GeorgeFloydJusticeInPolicingAct#Chauvin is GUILTY #BlackLivesMatter

Ben Crump@AttorneyCrump · 44m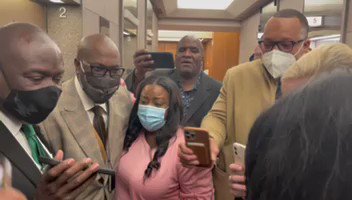 President Biden and VP Harris call the Floyd family after the GUILTY verdict! Thank you @POTUS & @VP for your support! We hope that we can count on you for the police reform we NEED in America!